The "Nueva España" Hotel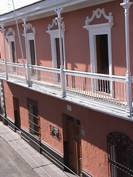 Nueva España is a colonial building, a big house constructed with sillar (volcanic stone which is tipical in Arequipa) and supported by iron rails. Somerooms come with barrel vault rooves, called "bóveda".It is located in Antiquilla, an historical, clean and quiet district, of the typical bigger district of Yanahuara, only 10 minutes (on foot) from the Plaza de Armas, walking through the old Bolognesi Bridge, where you will be able to observe volcanos (Misti, Chachani and Pichu-pichu) which surrounds the White City.
Nueva España was constructed in 1810, with extensions and improvements at the republican time (S. XIX and XX). However it has conserved intact its Roman architectonic style and its satately air of the virreynal time, also its old spirit of the local houses.
At first, it was a farm house for the farms that existed around; later it was designated for the business of the wool of alpaca, vicuna and llamas - since the family Salinas settled in 19th century (their descendants are the present owners) -. The farmers arrived at the big house with their flocks of camelidaes for shearing, weigh-in and purchasing of the wool.
In the decades of 1970's and 1980's the house was neglected, without maintenance, rented to more than 13 families and diverse associations, that had it literally crowded. Happily, from second half of the 1990's the works of improvements began to its refurbish and restore value.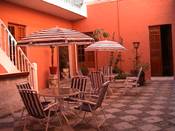 In fact, the Nueva España building has been restored to accommodate tourists comfortably from around the world. This recovery was made thinking in the maintenance of its colonial arquitectural style, in harmony with the modern world facilities. We offer you a fine cosy stay.
The 13 rooms of Nueva España can lodge 30 people. Each room has a bathroom with hot and cold water (solar energy). Also, our hotel has 2 coffee houses: one is outdoor, on a terrace to enjoy the andean sun, and the other is indoor, in a room made by sillar stones and beautifully decorated, where you could have the breakfasts that Celia and Eloy prepare you.
In somevenings we offer you special nights like folk musical presentations or tasting of tipical "tapas".
Our services include:
Transport from airport, train or bus station to Nueva España (Call to 054-252941 when you already have your travel ticket to Arequipa city);
You are welcomed with a mate de coca, typical drink which is very good against mountains sickness;
Continental breakfast: Natural fruit juice (orange and papaya), coffee or tea, local bread, beurre and mermelade;
Room service;
Spanish, french, english and german touristical information;
Coffee house and restaurant services;
Hot water always with solar energy;
Parking;
Lockers.


Additional services:

Laundry;
Arequipa city tour;
Plane tickets sold;
Colca Canyon excursions.